Chapter 11. Draw/Impress APIs Overview
This part discusses the APIs for both Draw and Impress since the presentations API is an extension of Office's drawing functionality, adding such things as slide-related shapes (e.g. for the title, subtitle, header, and footer), more data views (e.g. an handout mode), and slide shows.
You'll get a good feel for the APIs' capabilities by reading the Draw and Impress user guides, downloadable from https://libreoffice.org/get-help/documentation.
Details about the APIs can be found in Chapter 9 of the Developer's Guide, starting with Drawing Documents and Presentation Documents. The guide can also be retrieved as a PDF file.
The guide's drawing and presentation examples are online, and there's a short Draw example in LibreOffice Java Examples.
This chapter gives a broad overview of the drawing and presentation APIs, with some small code snippets to illustrate the ideas. Subsequent chapters will return to these features in much more detail.
The APIs are organized around three services which subclass OfficeDocument, as depicted in Fig. 91.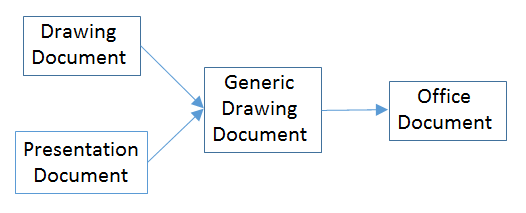 The DrawingDocument service, and most of its related services and interfaces are in Office's com.sun.star.drawing package (or module), which is documented as drawing Module.
The presentation API is mostly located in Office's com.sun.star.presentation package (or module), which is documented as presentation Module.
Fig. 92 shows a more detailed version of Fig. 91 which includes some of the interfaces defined by the services.
The interfaces highlighted in bold in Fig. 92 will be discussed in this chapter.
The DrawingDocument service is pretty much empty, with the real drawing 'action' in GenericDrawingDocument (which is in the com.sun.star.drawing package). PresentationDocument subclasses GenericDrawingDocument to inherit its drawing capabilities, and adds features for slide shows (via the XPresentationSupplier and XCustomPresentationSupplier interfaces).
The word "presentation" is a little overloaded in the API – PresentationDocument corresponds to the slide deck, while XPresentationSupplier.getPresentation() returns an XPresentation object which represents a slide show.